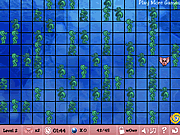 Play
Grosbraril the underwater elephant has lost his girlfriend Girlyfant! The evil Doramushka has kidnapped her and taken her to a place far under the surface. Help Grosbraril to find his way through the underwater mazes to find her back! Move through the maze, but try not to touch too many bubbles. The fact is that Grosbraril drinks them, and if he swallows to many of them, he will explode! In the mazes you will find several power-ups that help you to accomplish your mission. Some power-ups reduce your size if you drink too much water, others scare your enemies, others make you move faster. Every maze is a kind of puzzle that you will have to solve.
Google Ads:
Free Internet Games. Action Games, Strategy and War games. Kids, Cartoon and Dressup Games, Barbie and Fashion games, Soccer and Sports games, Adventure games, Puzzle Games

Gamedoz.com internet games central. Your internet connection alive as long as online to play free game have fun!.
---
---
Contact
Advertisement and other questions:


Copyright © 2008 - Gamedoz.com, all rights reserved.