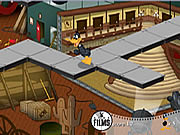 Play
Get Daffy Duck through the studio sets using the catwalk. The ACME prop machine has gone haywaire, so watch out and don't stay still for too long or the stage weights might fall on you! Earn points and boost your bonus timer by collecting the clocks along the way.
Google Ads:
Free Internet Games. Action Games, Strategy and War games. Kids, Cartoon and Dressup Games, Barbie and Fashion games, Soccer and Sports games, Adventure games, Puzzle Games

Gamedoz.com internet games central. Your internet connection alive as long as online to play free game have fun!.
---
---
Contact
Advertisement and other questions:


Copyright © 2008 - Gamedoz.com, all rights reserved.