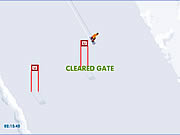 Play
This is one of the best snowboarding simulations. In this game you are snowboarding downhill and can turn left and right. There are gates you need to pass through. If you miss gates you get penalty time. When you are turning, you lose speed, so your trajectories are not linear. Try not to hit any gate flags or you will fall and lose time. Hit the kickers and land tricks to knock seconds off your time!
Google Ads:
Free Internet Games. Action Games, Strategy and War games. Kids, Cartoon and Dressup Games, Barbie and Fashion games, Soccer and Sports games, Adventure games, Puzzle Games

Gamedoz.com internet games central. Your internet connection alive as long as online to play free game have fun!.
---
---
Contact
Advertisement and other questions:


Copyright © 2008 - Gamedoz.com, all rights reserved.