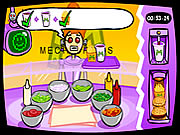 Play
Welcome to Mech-Droids fast food simulator. Here you will be trained to fulfill five customer's orders. You'll be tested on time and accuracy. The fewer mistakes you make and the faster you can complete an order the higher your customer satisfaction rating will be. The customer's order is displayed in a speech bubble showing the order's food items. Fulfill the order requested by selecting items on the right side of the screen. Be careful not to make a mistake or you will have to start from the scratch and face tounge-lashing from your customer.
Google Ads:
Free Internet Games. Action Games, Strategy and War games. Kids, Cartoon and Dressup Games, Barbie and Fashion games, Soccer and Sports games, Adventure games, Puzzle Games

Gamedoz.com internet games central. Your internet connection alive as long as online to play free game have fun!.
---
---
Contact
Advertisement and other questions:


Copyright © 2008 - Gamedoz.com, all rights reserved.