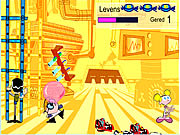 Play
You are the young scientist Dexter and you have a bubble of chewing-gum in the mouth. On your left, your sworn enemy Mandark shakes a rack and makes fall from the objects. On your line your sister Dee Dee. The goal of this game is that you move so that the objects which fall rebound on your bubble of chewing-gum. You will have then bring them to Dee Dee by making them rebound on your bubble. Once arrived until it, leave and it will catch the object automatically. To make rebound the objects put quite simply below. Pay attention to certain things which can bore your bubble of chewing-gum. With each time you make fall an object, the pink bar is emptied and once completely vacuum the part is finished. Good luck!
Google Ads:
Free Internet Games. Action Games, Strategy and War games. Kids, Cartoon and Dressup Games, Barbie and Fashion games, Soccer and Sports games, Adventure games, Puzzle Games

Gamedoz.com internet games central. Your internet connection alive as long as online to play free game have fun!.
---
---
Contact
Advertisement and other questions:


Copyright © 2008 - Gamedoz.com, all rights reserved.