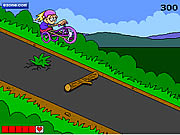 Play
You control Downhill Dilly down "Everslope Hill". Collect ballons for points and extra health. Be careful, baloons with brick will hurt you. Watch out for other obstacles too. Collect the checkpoint ballon to complete the first two levels and the magic Rainbow balloon to win the game.
Google Ads:
Free Internet Games. Action Games, Strategy and War games. Kids, Cartoon and Dressup Games, Barbie and Fashion games, Soccer and Sports games, Adventure games, Puzzle Games

Gamedoz.com internet games central. Your internet connection alive as long as online to play free game have fun!.
---
---
Contact
Advertisement and other questions:


Copyright © 2008 - Gamedoz.com, all rights reserved.