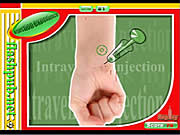 Play
You are the doctor and your task is to make sure that each injection on your patient's body parts that you would do would be as close to the target as possible, not only for you to get paid, but also for you to advance to the next level. I warn you, this job wont be that easy!
Google Ads:
Free Internet Games. Action Games, Strategy and War games. Kids, Cartoon and Dressup Games, Barbie and Fashion games, Soccer and Sports games, Adventure games, Puzzle Games

Gamedoz.com internet games central. Your internet connection alive as long as online to play free game have fun!.
---
---
Contact
Advertisement and other questions:


Copyright © 2008 - Gamedoz.com, all rights reserved.