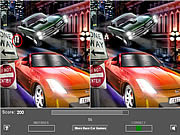 Play
Concentrate and commence to locate the 5 differences in each image! In pictures are various cars, they may be fascinating but in each and every subsequent image are more and extra tough to find the differences. You've 60 seconds for every picture. If time runs out you lose the game. Also you are able to get 1000 points for every picture in case you obtain the 5 differences, but when you mistake and click on wrong spot you shed point. Should you be ready to get your score, grab your mouse and start!
Google Ads:
Free Internet Games. Action Games, Strategy and War games. Kids, Cartoon and Dressup Games, Barbie and Fashion games, Soccer and Sports games, Adventure games, Puzzle Games

Gamedoz.com internet games central. Your internet connection alive as long as online to play free game have fun!.
---
---
Contact
Advertisement and other questions:


Copyright © 2008 - Gamedoz.com, all rights reserved.