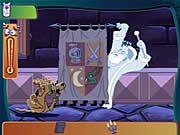 Play
Scooby has three tries to find the gang. You lose a try if Scooby's fright factor gets too high but a Scooby snack can help which you will find inside the creepy castle. Open doors by clicking on them. You can also find objects inside that can help you avoid the ghosts like a wooden plank to shut doors among others. Enjoy!
Google Ads:
Free Internet Games. Action Games, Strategy and War games. Kids, Cartoon and Dressup Games, Barbie and Fashion games, Soccer and Sports games, Adventure games, Puzzle Games

Gamedoz.com internet games central. Your internet connection alive as long as online to play free game have fun!.
---
---
Contact
Advertisement and other questions:


Copyright © 2008 - Gamedoz.com, all rights reserved.