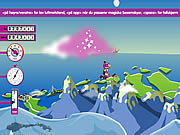 Play
Adjust the power and angle of the catapult in order to launch the stuntman. While he is airborne, keep his body parallel to the ground to reduce wind resistance. Use pink clouds to give him a boost. Lastly, deploy his parachute when the stuntman approaches the ground to ensure a safe landing. (Note: Your score is only calculated when the stuntman lands safely via the parachute.
Google Ads:
Free Internet Games. Action Games, Strategy and War games. Kids, Cartoon and Dressup Games, Barbie and Fashion games, Soccer and Sports games, Adventure games, Puzzle Games

Gamedoz.com internet games central. Your internet connection alive as long as online to play free game have fun!.
---
---
Contact
Advertisement and other questions:


Copyright © 2008 - Gamedoz.com, all rights reserved.